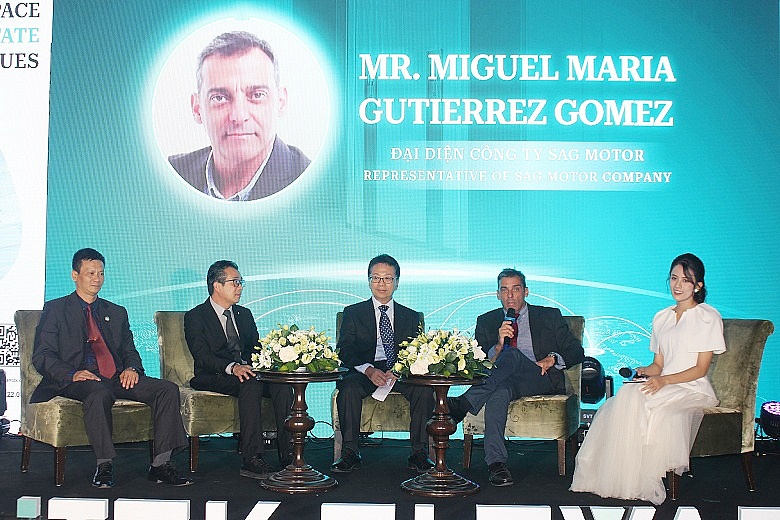 Delegates exchanged and introduced international technology in elevator production and operation.
Leverage from a stable economic growth, rapid urbanization process, investment capital flows into commercial centers, shophouses... are also the foundation to promote the growth of the elevator industry in Vietnam, as well as attract investment capital from businesses into this field.
According to a newly published report by Research and Markets, the Southeast Asia elevator and escalator market size is predicted to grow at a CAGR of 5.1% in the period 2021 - 2027. Notably, also According to the research department of this unit, the Vietnamese elevator market is having an impressive growth rate, expected to reach a CAGR of 8.28% in the period 2017 - 2027.
According to statistics from the Vietnam Elevator Association, there are currently about 300 businesses operating in the elevator field, and 1,500 individuals and organizations related to elevators. Regarding foreign investment capital, large international elevator companies such as Otis, Schindler, Mitsubishi, Kone, Hitachi... have also poured investment capital into commercial activities in the Vietnamese market and achieved outstanding successes. turn on.
In addition, a number of domestic enterprises also participate in commercial activities of high-end, prominent family elevator lines such as Gama Lift, or companies providing specialized elevator services such as Gama Service. In addition, many companies also participate in domestic production and assembly activities such as Thien Nam, Hisa, Fuji Alpha...
To demonstrate the potential of the domestic elevator market, Mr. Nguyen Tai Minh Cuong - CEO of iTek Elevator cited statistics from the Vietnam Elevator Association: In 2022, there will be about 24,600 elevators in Vietnam. installed, in which, the volume of elevators used for low-rise buildings (10 floors or less) is about 14,600 (accounting for about 60% of total elevator output).
"With the speed of urbanization in Vietnam, the growth rate of the elevator market in Vietnam is about 17 - 18%. However, due to the recent impact of Covid-19 and the economic situation, the growth rate of elevator output in Vietnam has only increased at 8%/year. This shows that the elevator market in Vietnam is very open" - Mr. Nguyen Tai Minh Cuong commented.
The first "Made in Vietnam" elevator brand of a Vietnamese enterprise with international standards
Mr. Nguyen Ngoc Chung - General Director of EMTC said: iTek Elevator is the first "Made in Vietnam" elevator brand produced by a Vietnamese enterprise, EMTC. iTek Elevator focuses on 5 product lines including home elevators, passenger elevators, cargo elevators, hospital patient transportation and observation elevators.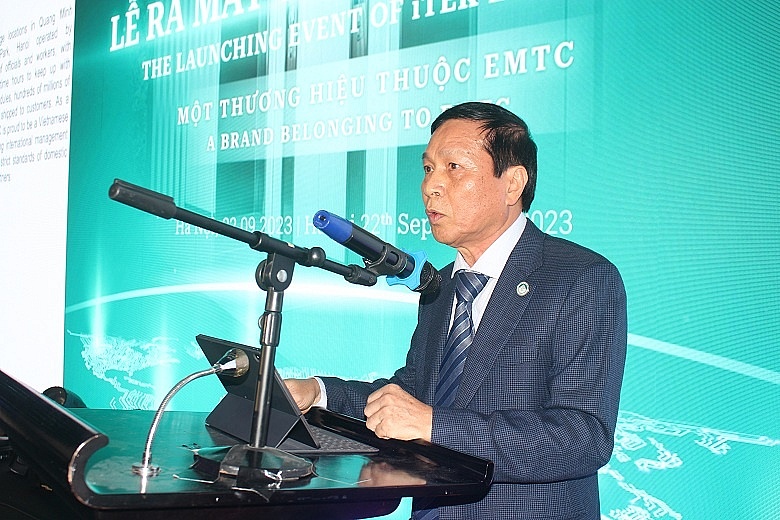 Mr. Nguyen Ngoc Chung introduced the elevator brand "Made in Vietnam"
By taking advantage of the great production capacity advantages of the parent company EMTC - iTek Elevator offers elevator products focusing on 4 factors: Environmental friendliness; Smooth movement - efficient operation; Absolute safety in all cases of power failure, fire or earthquake; Personalize elevator cabin design.
Mr. Nguyen Ngoc Chung also said that to realize the goal of providing the first Made in Vietnam elevator products that meet international standards, the business has cooperated with famous brands in the world, using intellectual property. human intelligence to create Vietnamese products of international quality.
Typically, cooperation with SAG - a Spanish brand of quality elevator motors, ensuring operational safety, and Wittur Group (Germany) is the world's leading equipment supplier in the application of elevator motors. use modern technology.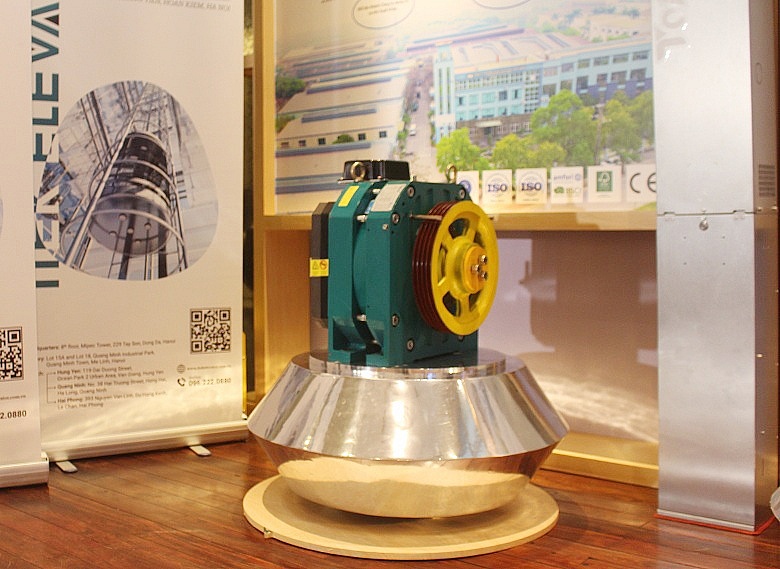 The elevator brand iTek Elevator - "Made in Vietnam" uses motors that meet international standards.
Sharing information and features of iTek elevator products, Mr. Nguyen Ngoc Hieu - Brand Director of iTek said that elevators under the iTek brand use mirror stainless steel, hair-grain stainless steel, and painted stainless steel. Latest technology with diverse and impressive colors and designs, highly aesthetic and good fingerprint resistance. With the thorough application of new technology, iTek elevator products can effectively save energy and at the same time limit greenhouse gas emissions.
Mr. Nguyen Ngoc Hieu also said that iTek elevator - the first Made in Vietnam elevator brand was born thanks to the efforts of hundreds of people. This is not only the pride of the company but also the pride of Vietnamese people. Therefore, in addition to product quality, maintenance and safety services are also given special attention. When customers install elevators, they will be periodically inspected and maintained 12 times a year to help customers feel secure when using.
At the launch of the iTek Elevator brand, representatives of iTek Elevator and representatives of CSAG signed a cooperation program. Mr. Miguel Maria Gutierrez Gomez, representative of SAG Motor Company, said that SAG is a leading enterprise in European elevator motor manufacturing technology. SAG products have been widely used around the world. Always achieving stability and reliability during operation and recognized by customers. With the cooperation between CSGA and iTek Elevator and the commitment of SGA's companionship, Mr. Miguel Maria Gutierrez Gomez believes that iTek Elevator will become the leading machine brand in Vietnam, meeting increasing demand. of cutomer.
https://petrotimes.vn/viet-nam-co-thuong-hieu-thang-may-made-in-vietnam-dau-tien-mang-tieu-chuan-quoc-te-694929.html?gidzl=x0mvDGwURNdW6pin0uLeVEuOFpCQrMjyznnkC4ZHFtogGcWrGuquBwr2R6CItZia_a9kFpFQgsT-199gSm