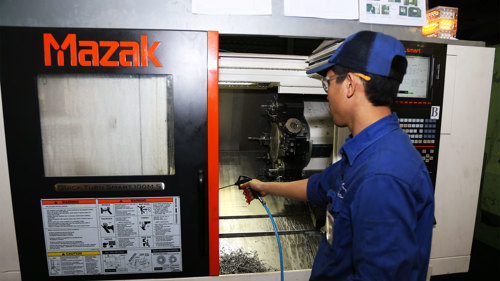 MOLD MAKING
The Tool Workshop is equipped with the most modern machinery and equipment system in the region and on the current Vietnamese market:
- 9 CNC milling machines, including 2 Makino PS65 CNC machines, 2 Mazark CNC milling machines, along with Man Ford, Hurco, Hartford machines,...
- System of 10 Markino CNC wire cutting machines
- 1 Fonyu 200 ton mold testing machine.
- 12 universal drilling, grinding and milling machines
- 1 punching machine
- 4 Rotating machines
With a team of more than 50 engineers and highly qualified workers, equipped with more than 60 modern machines and equipment, within 1 month, EMTC Tool Workshop can produce:
- 20 sets of hot stamping molds, using SKD61 material;
- 5 continuous mold sets, mainly using materials SKD11HQ and S45, etc.
- 3 sets of sealed dies
- 3 sets of deep injection molds
In particular, the Workshop can process mold sets with sizes up to 2000mm in length and 800mm in width.